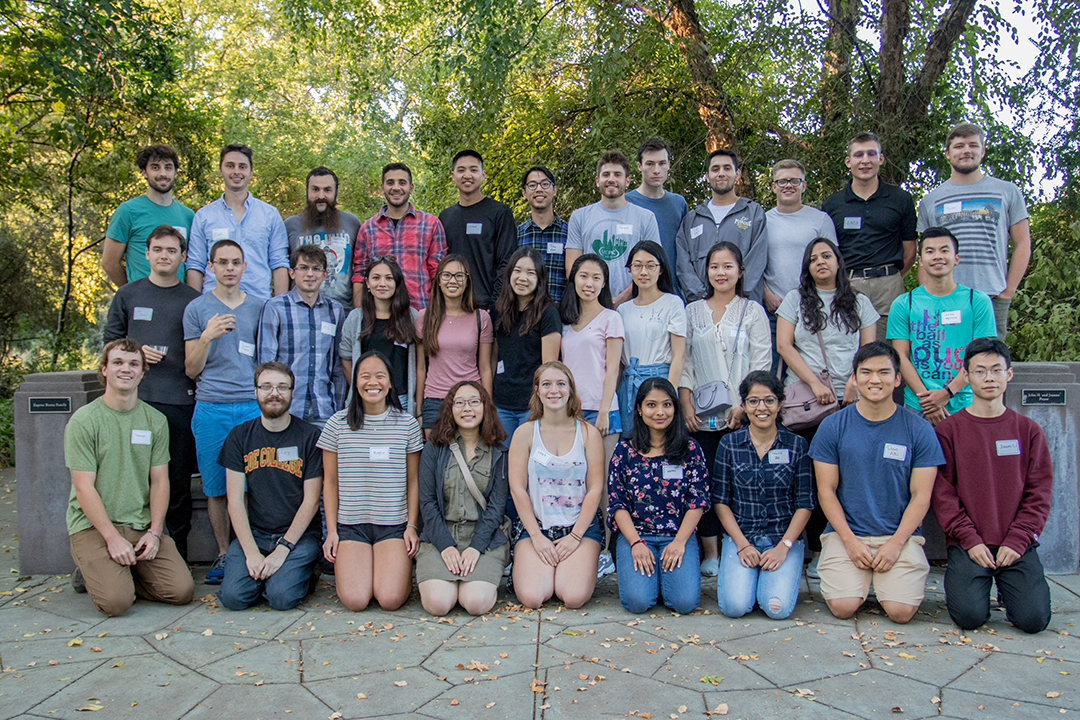 We Are Delighted to Welcome You to the Aggie Family
Most new students arrive in Davis in early-to-mid-September, as housing leases generally begin on September 1st. You'll want to start looking for housing right away, as vacancies can fill up quickly (we've included a link for housing resources at the bottom of this page). We look forward to welcoming you in the fall.
Below is a list of the steps that you need to take to get registered for classes and the orientations and trainings that need to be on your radar for fall. 
Steps to Attend UC Davis
Know your Student ID
You will need to get your UC Davis student ID number, which can be found on your admission letter. 
Submitting your SIR (Statement of Intent to Register)
We ask you SIR as soon as possible (whether you are attending UC Davis or not) so that we can plan accordingly and you can complete all the steps to start here in the fall in a timely manner, and receive all the important emails throughout the summer. 
Please submit your SIR by June 1.  If you SIR yes after July 1, please contact Ryan Gorsiski (ragorsiski@ucdavis.edu).  The campus deadline to SIR is August 1. 
To submit your SIR: Please click on the link in the email you received from the Office of Graduate Studies informing you about your formal admission offer.  If you lost this email, or if the link takes you to an error page, please contact Ryan Gorsiskil and they will request the system re-send the email to you. 
Request to Defer Admission
If you are interested in deferring your admission, please submit your SIR as a "yes" (by Aug. 1, 2023), but DO NOT enroll in fall courses yet (if you enroll, you can no longer defer). Requests can be submitted until September 1, 2023 by emailing the Graduate Program Coordinator with the following information (Please copy and paste the "email body" section into the email and answer all the questions):

Email Subject:
Deferral Request: [your name]
Email Body:
- Your full name:
- Your SID (found on your admission letter):
- Requested deferment term: Fall 2024
- A short statement as to the reason for your deferral request:
- Have you submitted your SIR "yes" (yes/no):
- Have you enrolled in any fall classes (yes/no):

NOTES: Deferral requests will only be accepted for one full year. We do not accept one/two year quarter defers. Our department generally only approves one deferral request, so please be sure of the term you would like to attend prior to making the request. You will not need to submit a new application. Approval of deferred admission does not automatically approve a deferral of any financial offer you might have received. If you want to request a deferral after September 1, but before the first day of the fall quarter, please email the Graduate Program Coordinator to as for a departmental exception. 

Deferral Requests will be automatically denied if:
- If the request is made after UC Davis instruction starts
- If you have enrolled in classes
- If you submit your Statement of Intent to Register (SIR) as a "no"
- If you were admitted to the MS program, and you plan to attend an MS program elsewhere during the deferral period
Signed Funding Offer Letter (Ph.D Students only)
Return your signed funding offer letter to Graduate Program Coordinator by August 1st, 2023. 
Computer & Email Accounts
All new students must establish a campus computing account and a UC Davis e-mail account. Go to the Information Technology website. Follow the instructions for establishing a computing account, Kerberos ID (your campus login ID) and password. It may take up to 48 hours after submitting the Statement of Intent to Register (SIR) before you are able to access this function. If you need assistance setting up your computing account and email, contact IT Express: http://itexpress.ucdavis.edu/. All university-related communications will be sent to your UCD email, so it's important that you check it on a regular basis. You can also redirect your UCD email.
Complete the Graduate Studies Orientation - Aggie 201 module. 

Sponsored by Graduate Studies, Aggie 201 is an online orientation platform that provides a resource and services overview for new graduate students. Consisting of modules and videos, Aggie 201 helps new students prepare for some of the expected and unexpected aspects of graduate school. We encourage all incoming graduate students to use orientation as an opportunity to become familiar with the various university processes and services.

The online orientation provides incoming students with the ability to learn about key areas of their graduate experience and identify the right individuals to answer their questions before they arrive on campus. Users also have the ability to reference the orientation platform throughout their graduate career.

Instructions: Log into your status portal with the email address you used when applying to UC Davis.
Once your computing account is created, click the hyperlink in the 'Next Steps Checklist' labeled "New Student Orientation" to begin.

If you receive an error message about "not enrolled", the message is related to the DUO connection. Please contact IET and they will be able to assist with connecting your device for DUO authentication.

Submit in your Offical Transcripts
All students must submit their official transcripts to the Office of Graduate Studies. If you submitted your final transcripts before you graduated, you will need to order a final transcript with your degree posted, and resubmit your official transcript. The final transcript(s) should be sent directly to the Office of Graduate Studies. Find out more here.
Submit your State of Legal Residency
The Office of the University Registrar will be contacting you regarding filling out a Statement of Legal Residence form. This form is online and the deadline to complete it is July 1. If you do not meet this deadline, you will be classified as a nonresident and will be assessed the Nonresident Supplemental Tuition. Find out more here.
UC Davis Health Requirements (Including COVID-19 Vaccination Requirements)
Be sure to submit your immunization records. More information can be found here: https://shcs.ucdavis.edu/resources/new-students

The University of California COVID-19 Vaccine Policy requires all employees and students to be fully vaccinated, or hold an approved exception.

GET VACCINATED! (Click to make your appointment today)

View a webinar covering UC's COVID-19 vaccine mandate and implications for students and employees.

Q: If I received a vaccine outside of the U.S., will that count toward the vaccine mandate for Fall
A: if the vaccine you got was not WHO-approved (Pfizer, Moderna, J&J, AstraZeneca, Covishield, Sinopharm, Sinovac) then you'll need to get the Pfizer vaccine once you arrive in Davis in order to comply with the University of California vaccine mandate. 
Reporting your Social Security Number
Per university policy and IRS regulations, all students receiving financial support or who are or will be employed by the university are required to report their SSN to the university. Go to SISWEB, go to "Personal Information", and click the "Report SSN" link. Note: If you are temporarily in the United States to attend UC Davis with a nonimmigrant F-1, M-1 or J-1 student classification and you will not be receiving any financial support disbursed by the university, you are not required to obtain a social security number.
AggieCard - Student ID Card
Once these steps have been completed you should begin registering for mandatory orientations and trainings.
Course Registration
Once you register, you are no longer able to defer your admission to UC Davis. 
This will be updated after our August 2nd, 2023 virtual orientation session. 
Questions?

Please contact the Student Services team at mse-advising@ucdavis.edu.