Amir Saeidi: Making Connections to Make a Difference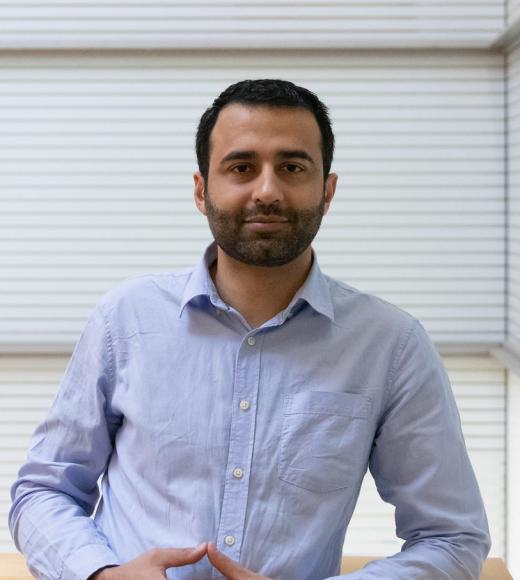 The first time he learned about the science behind teaching, Materials Science and Engineering Assistant Professor of Teaching Amir Saeidi knew how he wanted to make a difference. The social sciences and humanities students in his pedagogical fellowship program were all familiar with concepts like active learning, but Saeidi had never seen anything like them in his engineering classes and decided he needed to use and promote that. 
"You don't just prepare slides and go to class and show others how much you know," he said. "It's more about how people learn, the connections that are formed in the brain and what can help students make those connections stronger. That was a driving force that made me decide to go this route because I felt that I can contribute to engineering education." 
In all of his teaching positions since, Saeidi has been determined to engage his students and make them curious and competent materials scientists and engineers.  
"Teaching is an opportunity to be impactful on other people's lives," he said. "It's an opportunity to help others grow and help them find their own path in their lives and in engineering." 
Tutor to Teacher 
As an undergraduate at Shiraz University, Saeidi decided to study materials science and engineering after taking a class on crystal structure and crystallography. 
"It was like solving a puzzle for me," he said. "If I'm given different crystalline structures and some properties of them and I know one [of these things] for one crystalline structure, I can find the same properties for other crystal structures." 
He soon started tutoring his peers in crystallography and found that teaching came naturally to him. He built on this experience first as an M.S. student at Ulm University in Germany and later as a Ph.D. student at UC Irvine, where he enrolled in the pedagogical fellowship program for future teachers. 
After receiving his Ph.D., he worked as a lecturer at his alma mater and at California State University, Los Angeles before receiving his first full-time teaching position at Texas A&M University. In each of these roles, he's tried to make the classroom a more active and engaging environment for his students and share his passion for materials science and engineering. 
"In materials science, we have a paradigm, processing affects the structure, structures affect properties, and properties determine the performance of the materials. Connecting these four different parameters to each other is interesting to me and I enjoy sharing that joy of finding these connections with students," he said.  
He's particularly proud of how he restructured a metallography lab class while at his previous position at UC Irvine. Instead of waiting around to use a single machine all class, students broke up into groups that took turns using the different machines while teaching the other groups what they'd learned. 
"I really like redesigning and seeing what's not working and finding the solution for that," he said. "I think that's the role of the instructor." 
A Materials Advocate 
Saeidi joined UC Davis in January 2023 and will teach "The Science Behind the Technology in Our Lives" course (ENG 10) as well as the department's senior design course (EMS 188A/B). This puts him in a unique position to make an impact on students right after they begin college and right before they graduate. 
"I am one of the people who students see in their first years of college, so I should try to make them interested in the field, and I think curiosity is a way I can do that," he said. "If we can show the importance of the field and what it can do for students and their career, maybe we can attract more students." 
Saeidi wants to make students curious, engaged and comfortable in class, but he also wants to make sure they're prepared for their careers. He plans to do this by fostering new partnerships with industry and other universities in the region so the students can gain valuable perspectives. In particular, he wants students in the senior design course to have the opportunity to take field trips to the companies that sponsor their projects. 
Above all, he wants to share the joy he finds in studying materials and inspire the next generation of students.  
"I tell my students, 'This is what I enjoy and I think you will enjoy that too. So let me share it with you,'" he said. 
Primary Category
Tags