Assistant Professor Amir Saeidi Named 2023 Public Scholarship Faculty Fellow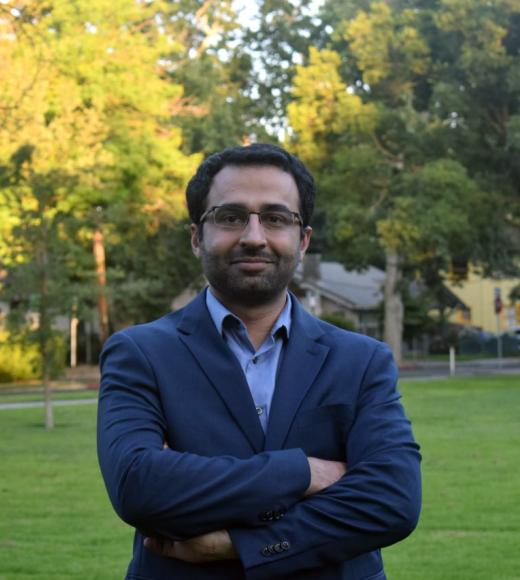 Amir Saeidi, assistant professor of teaching in the Department of Materials Science and Engineering, was selected as one of eight Public Scholarship Faculty Fellows the University of California, Davis Office of Public Scholarship and Engagement announced the 2023-24 cohort on Tuesday.  
Saeidi focuses on creating teaching activities and materials that foster students' learning. His key responsibilities include teaching the materials senior design class, where students engage in solving real-world problems in collaboration with industry partners. 
The eight faculty fellows represent a variety of disciplines and will pursue diverse forms of public engagement, from book writing to documentary films to patient health information. 
Often, the significance of scientists' achievements and innovations often remain underappreciated when communicated as dry facts. Saeidi plans to bridge this gap by writing about six topics in engineering and how they were developed over time. Each chapter will introduce the scientists and engineers involved, underlying theories, how the scientific method was used, and success and failures.  
"Our fourth cohort of faculty fellows continues to embody the multifaceted nature of public scholarship at UC Davis," said Vice Provost Michael Rios. "These fellows span across disciplines and fields including education, humanities, medicine, and social sciences." 
The Faculty Fellows program was launched in 2020 to recognize outstanding individuals dedicated to advancing public scholarship, and to make academic research more accessible to all. The program empowers participants to identify effective platforms for disseminating their scholarship and to communicate their work to diverse audiences. It also equips scholars with the ability to articulate the value of public scholarship within the context of academic reward structures. 
The current cohort will meet monthly through March 2024 to provide participating faculty with a public scholarship peer group and structured time for advancing their projects. Guest speakers will bring their university and public scholarship expertise to the group. Each fellow will receive a $1,000 grant in support of their initiatives. 
The fellowship program is led by Tessa Hill, associate vice provost of academic programs in the Office of Public Scholarship and Engagement. The Office of Public Scholarship and Engagement builds and supports meaningful relationships between communities and UC Davis scholars for the public good. 
Primary Category
Tags