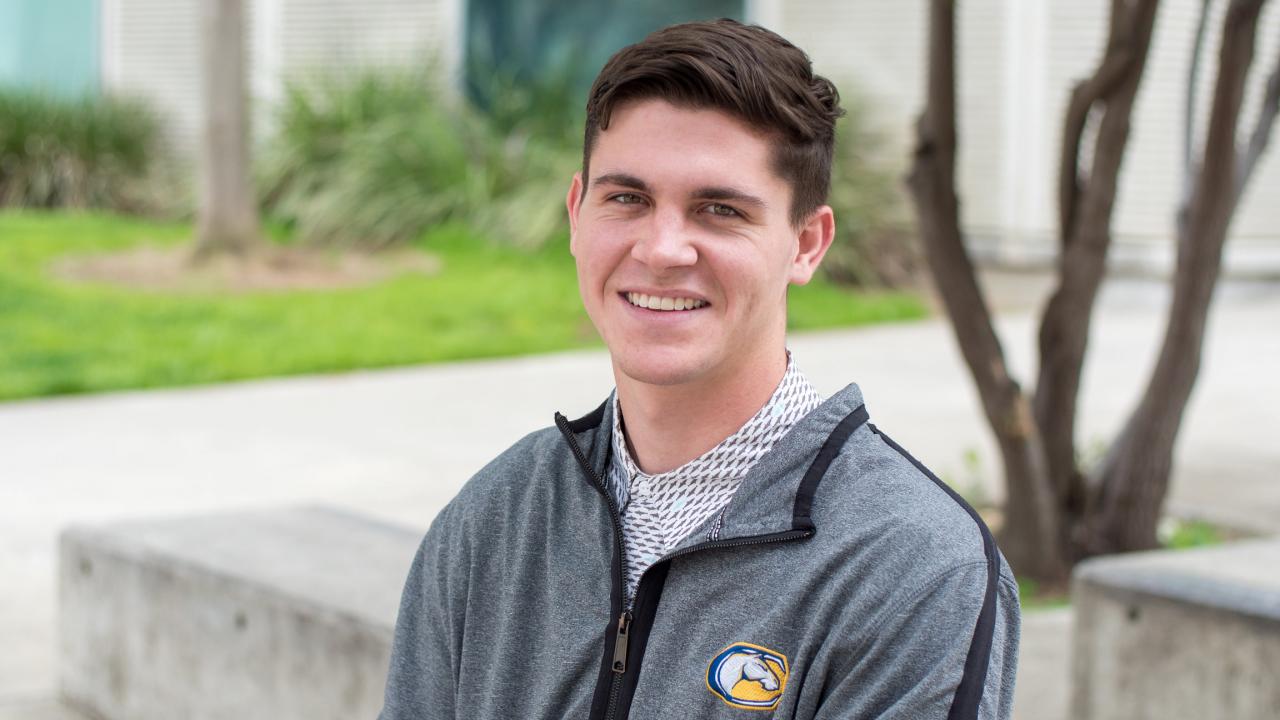 Jonathan Thomas is a passionate undergraduate student in the Department of Materials Science and Engineering (MSE). He works with carbon fiber composites in the ACERS laboratory on campus and is an active member of the Formula SAE car team at UC Davis. The department sat down with him to chat about his life and undergraduate career.
MSE: What activities (clubs, jobs, research, internship, etc.) have you been involved in during your time at UC Davis? 
Jonathan: I'm currently being trained in the ACRES laboratory on campus. I have made a large number of carbon fiber composite samples and I've used the knowledge gained in the lab towards my work on the Formula SAE car at UC Davis. The lab is currently working on a NASA project where we are testing the applications of composites in spacesuits.
MSE: What are some highlights of your time so far at UC Davis?
Jonathan: One of the highlights was starting cheers while in body paint at the front of the Aggie Pack. I'm normally pretty loud in the student section, but this time I felt really out of my comfort zone in body paint at the televised basketball game. It was a good experience and it really made me more confident in public. Picnic Day is also definitely one of the main things that has happened to me at UC Davis. I never had that much opportunity to learn and experience other disciplines before.
MSE: What are your plans for after graduation?
Jonathan: My plan after graduation is to go into industry and work some engineering job in Northern California. After a few years, I hope to make my way down south so I can work closer to my family and go surfing more on the weekend. I know that I'd like to go into more of the management side of engineering later on in my career. 
MSE: What advice do you have for incoming students?
Jonathan: Do things that make you uncomfortable to learn more about yourself. Wearing body paint at the basketball game was terrifying, but I learned so much and had a really good time cheering on the team. Also, I wish that I was more involved in school clubs my first year so that I could have learned more about how the things I learned in class are applied to the real world. Lastly, find things that you're truly passionate about and make them happen at school. For example, I'm really interested in race cars so I got involved with the Formula SAE team at UC Davis.
MSE: What would people be surprised to learn about you?
Jonathan: I can surf and try to go whenever possible back home in Southern California. Surfers are usually less that six feet tall, so when I tell people that I can surf it always surprises them since I'm 6' 5." It's something I picked up about five years ago and I've started doing much more this past year. I brought a surfboard up to Davis but I have yet to go surfing in the cold Northern California ocean.
MSE: What do you like to do with your spare time?
Jonathan: I enjoy playing water polo, biking and watching baseball games at UC Davis. With water polo, I've found a great group of friends who support me in what I do. I mountain bike a lot back home, so going road biking around campus always feels good when I need to clear my head from engineering homework. I really enjoy watching baseball, so having it here at Davis is always nice.
Category
Tags