Innovating for our future
From our morning cups of coffee to our essential health care routines, the daily aspects of our lives are being studied — and improved — by UC Davis graduate students.
These scholars are committed to taking the extra step in education and discovery, all while assisting their professors and teaching undergraduates.
With a boost from the funds provided by philanthropy, graduate students have even more opportunities to answer knotty questions, explore new avenues of research and make important contributions to their fields. Here is one such story: 
Biodegradable, color-changing display devices
Imagine a medication that changes color when it expires. Such an innovation could help save lives.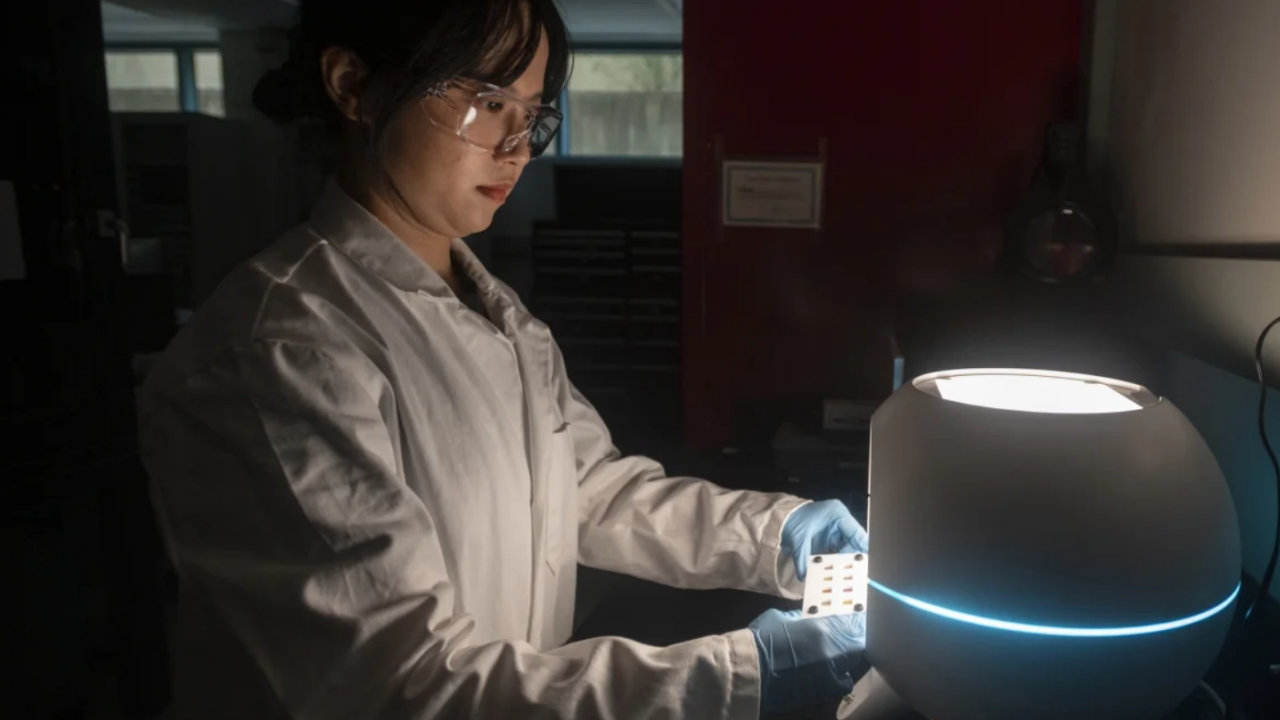 Peifen Lyu '19, Ph.D. '25 has created a magnesium-based nanoscale optical device that dissolves in water and changes colors in displays. It creates a color change across several applications, such as a coating for pills or as sensors in environmental science for testing different chemical compositions.
"What's unique about our materials' choice is it has a really broad range of applications, from environmental science to health care and data encryption," said Lyu, who is a student in the lab of Chancellor's Fellow and Associate Professor Marina Leite in the Department of Materials Science and Engineering. The Chancellor's Fellows program has been supported by annual donors for 22 years and provides unrestricted funding to faculty working on innovative research.
Because it is made of magnesium, which can be absorbed through skin, this innovation can also be used for skin implants that change colors while measuring different health factors. Since the material is absorbed, there would be no need for a procedure to insert or remove it.
Devices created for photonics — the study and applications of light — are often made with materials like silver, gold, or copper, but these are expensive or require several processes for recycling. Magnesium, the eighth most abundant element on the Earth's crust, is far less costly and is biodegradable through a green chemistry reaction.
"Magnesium is a fantastic material to control the electromagnetic spectrum. Plus, it is an earth-abundant and biodegradable material that can be used for many applications," said Lyu. "We were able to shrink the dimensions of magnesium into nanometers and fabricate color pixels that can show a different range of hues than what is currently possible."
While the work is still underway, Lyu said their model is highly scalable and will be easy to apply to future inventions.
"It's really exciting to get to work on these kinds of projects that can have a lot of impact in my field: functional materials," said Lyu.
This article was originally featured in the fall 2022 issue of In Greater Focus, the magazine of the Expect Greater campaign published by the Office of Development and Alumni Relations at UC Davis. 
Primary Category
Secondary Categories