Materials Science Ph.D. Candidate Driven to Engineer Sustainable Future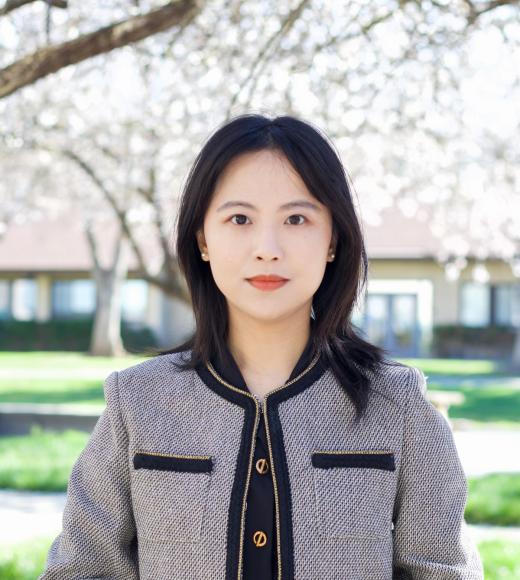 For fourth-year materials science and engineering Ph.D. candidate Peifen Lyu, the decision to attend UC Davis is a personal one. 
Lyu works in the field of photonics, but has seen the effects of marble mining firsthand in her hometown. She chose to major in materials science at UC Davis in hopes of creating and manufacturing materials that don't deplete natural resources. 
A member of the Leite Research Group under Professor of Materials Science and Engineering Marina Leite, Lyu's research as an undergraduate and graduate student spans a variety of subjects. As an undergraduate, she worked as a researcher with  Professor of Materials Science and Engineering and current department chair Yayoi Takamura. Now, under Professor Leite, she works on creating more sustainable optical materials and photonic devices. 
In March, Lyu received the College of Engineering's Excellence in Graduate Student Research Award.  
Photonic devices are a broad category of components, encompassing anything that deals with the manipulation, creation, or detection of light. At the Leite Lab, researchers are currently focused on nano metallic structures and their optical properties, which they hope to extend to work on semiconductors and high temperature resistant refractory materials. 
The wide variety of applications for these devices is especially interesting to Lyu, who also received her undergraduate degrees in materials science and statistical data science from UC Davis, because she enjoys the collaborative and interdisciplinary nature of materials science.  
After her research experience with Professor Takamura, which was primarily focused on magnetic materials, she was invited to stay at UC Davis for her Ph.D. During her graduate studies, Professor Leite invited her to study at the Leite Lab, a new experience for her. 
"I felt like that was a good offer because I would have more opportunities to try and explore materials in other fields," she said "Even though this is a new field for me, I was quite excited about it because it was an opportunity to do something different." 
Lyu's recent work has been focused on magnesium and its photonic potential.  
"Magnesium is a highly reactive material, and also it has very good optical properties for those photonic devices. So we are currently considering its viability as a biodegradable environmental sensor," she said 
Two potential applications of her magnesium research, according to Lyu, are in the biomedical field. Because magnesium reacts with water and is biofriendly, it could be used in sensors to detect sweating in patients who need monitoring, or ambient humidity levels for medications that need to be kept dry. 
Her time at UC Davis has been rewarding because of the faculty and the collaborative environment at the school.  
"The faculty here are so nice, friendly and willing to help students," she said. "And my colleagues, the other graduate students, are always working together. So that has influenced me to be more friendly and also more willing to help others as a researcher. For me, Davis is such a friendly environment." 
Primary Category
Secondary Categories