MSE Celebrates the Class of 2022
The Department of Materials Science and Engineering (MSE) celebrated its graduating seniors from the class of 2022 during the Senior Send-off held on Sunday, June 12, 2022. The graduates and their families were invited to Kemper Hall after the main graduation ceremony held at UC Davis Health Stadium to recognize and celebrate their accomplishments.
The department had the honor of selecting Chad Serrao as the one student from the materials science and engineering major to receive the Outstanding Senior Award, presented by the UC Davis Office of Undergraduate Education. The award recognizes one student from each major who has an excellent academic record and has made significant contributions to the dynamic intellectual life at UC Davis.
In addition, three students were selected for department citations to recognize exemplary achievements and service to the department and the university. This year's recipients were Pooja Rao, Sevag Momjian and Avery Adams.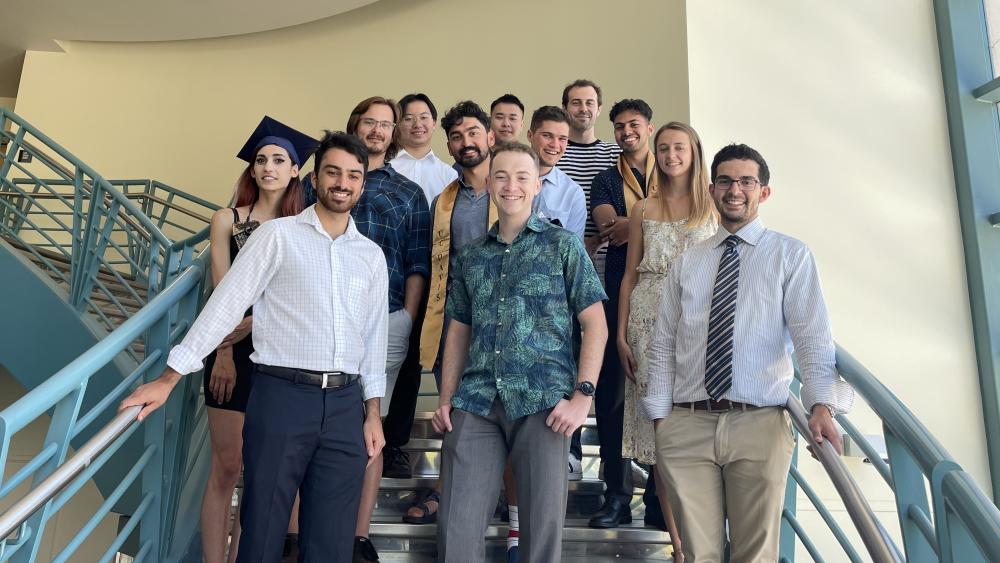 Read profiles of the Class of 2022
Best Teacher and TA
Assistant Professor Jeremy Mason was also nominated by faculty, staff and students—both graduate and undergraduate—from the department for the Best Teaching Award. The award recognizes those  who have made a significant impact on their education through teaching and/or mentoring. The College of Engineering Dean's Office generously provided him a $1,500 prize.
The college and department also honored one outstanding teaching assistant who had significant impact on the delivery of MSE classes. This award includes a prize of $500, provided by the College of Engineering Dean's Office, and was awarded to Cassondra Brayfield for her support for EMS 188A/B, the senior design course.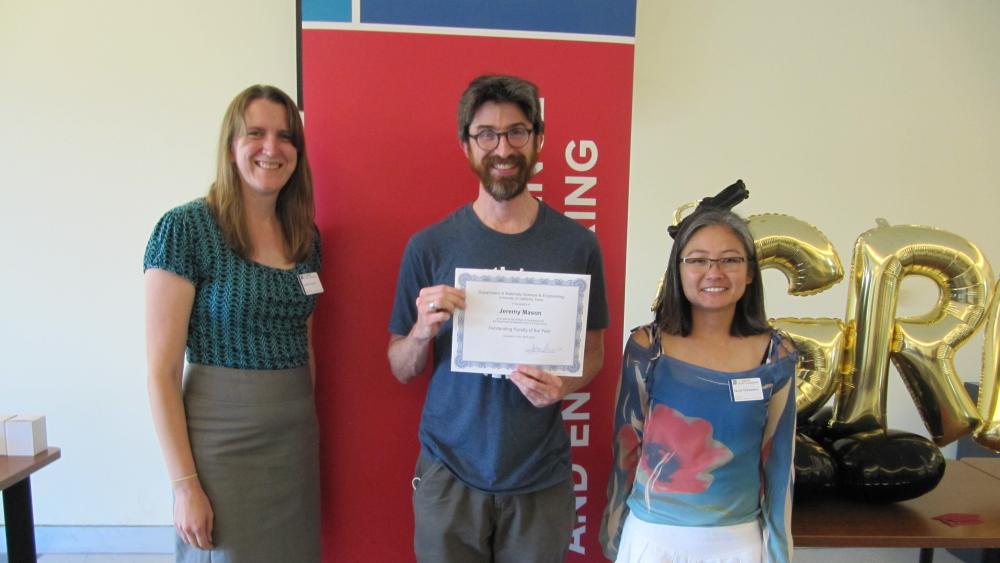 Outstanding Senior Design Projects
Senior design is the capstone project for the MSE program where students bring together the concepts that they have learned during their previous coursework and apply them towards a problem of scientific or technical relevance, usually provided by a partner company. Due to the significance of the course to the overall curriculum, the department has a tradition of providing an award for the  Outstanding Senior Design Team to the team that demonstrated outstanding creativity and rigor in their design project.
The 2021-2022 Award went to the ElectronInks Team which consisted of Karlo Adrian Salazar, Ubaid Rehman, Esther Udogu and Seraphine Liu.
Distinguished Professor Subhash Risbud, who advised the group, stated that they were especially well coordinated and handled all the details of the project very well, including the dye-on-fabric processing and mechanical testing, as well as interfacing with the company contact in regular meetings. Despite the struggles that the group faced, he says their teamwork was a good example of how to work together to achieve a goal.
The other senior design teams and projects are listed below:
"Moly Domes by Sheet Deformation" [Partnership with Elcon Precision]
Ben Tran, Camille Mackaoui, Joseph Graham, Xincheng Zhu and Adewumi Aladetimi
"Silica-Calcia-Alumina Ceramic Firing and Phases Analysis" [Partnership with Elcon Precision]
Elijah Victa, Nikolaus Calarco, Juntong Yin, Misael Rosales and Matthew Layiktez
"SEM of Silicon Solar Cell Thin Film Interfaces" [Partnership with Pi Energy]
Andrew Layton, Cunshuo Li, David Zhou, Wylen Winchell and Yifan Huang
"XRD Raman of Amorphous/Crystalline Structures in Si Solar Cells" [Partnership with Pi Energy]
Avery Adams, Santiago Mejia, Rohit Mokkarala, Chad Serrao and Pooja Rao
"An Exploration of Magnesium Aluminate Spinel as a Replacement Binder for Cobalt in Tungsten Carbide" [Partnership with Professor Ricardo Castro]
Sevag Momjian
Primary Category
Tags