Everything You'll Need to Succeed as a Materials Science and Engineering Major
UC Davis has a large number of on-campus resources available to supplement your undergraduate experience and to help you through any problem you may be facing. The following list is in no way comprehensive, but it highlights a few of the most useful and commonly-used resources on campus. The full listing can be found on the university's student resource page.
Undergraduate Research
One of the best opportunities our undergraduate students have is to work on faculty research projects in the department. This allows students to earn course credit and/or financial support while gaining valuable hands-on research experience. Getting involved is easy. Start by researching some research topics that interest you and then contact faculty members directly. The Undergraduate Research Center is also a great resource if you want to learn more about how to approach a professor and explore other ways to get involved with research on campus.
Contains important dates and deadlines pertaining to registration pass times, fee deadlines and other term dates.
Your one-stop shop for everything having to do with courses and registration. Pass 1 and Pass 2 appointment times are available on the site. It's where you can search, select, drop, waitlist and register for courses as you build a schedule for the upcoming quarter.
Browse through courses being offered by the university on a quarter-by-quarter basis dating back to 2007.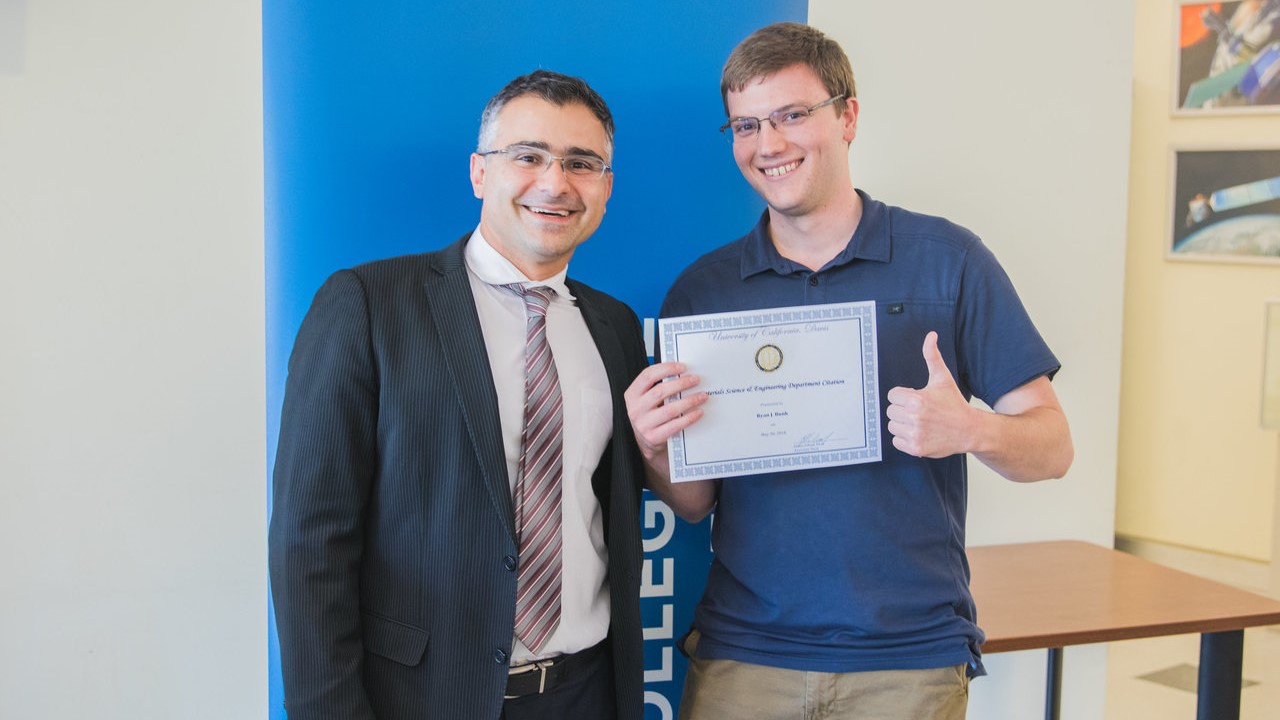 Financial resources for prospective, incoming and continuing students. Learn more about various types of aid, important dates and deadlines, forms and appeals and FAQs regarding financial aid and more.
A full, detailed listing of courses offered at UC Davis. The catalog also contains information detailing degree requirements, announcements and regulations of the university.
Considering studying abroad? Learn more about the diverse and robust study abroad programs offered by UC Davis Study Abroad, including quarters abroad, summers abroad, UCEAP and internships.
UC Davis chapter of a national student organization run by some of the leading professional materials societies around the world. Check out the MASC page to learn more.
The Department of Materials Science and Engineering and Department of Chemical Engineering joint honors program for standout undergraduate students. Learn more about the program on the honors program page.
Computer Recommendations
Student Computer Recommendations can be found here: https://engineering.ucdavis.edu/student-computer-recommendations
Orientation Recordings
Fall 2020 First-Year Orientation Session for the Department of Chemical Engineering and Materials Science and Engineering: 
Fall 2020 Transfer Orientation Session for the Department of Chemical Engineering and Materials Science and Engineering: