Student Spotlight: Nicole Shuman
Fourth-year materials science and engineering (MSE) major Nicole Shuman found materials science as a returning college student and is determined to use her knowledge to inspire others through outreach, teaching and mentorship.
Shuman started her career managing a multimillion-dollar big box retail company in the Los Angeles area. After 15 years, she moved to the Sacramento area for a job, but it fell through, and she found herself missing the connections she had and looking for a new opportunity.
Her mother suggested that she go back to school, so she enrolled at Folsom Lake College in 2016. Soon after, she visited the Innovation Center Makerspace, the college's design and prototyping space. She met with the head of the center and told him about an idea to create prosthetic bird wings for birds that couldn't fly. He encouraged her to explore engineering and she soon became enamored with the idea. After exploring different engineering disciplines, she found materials science, which to her, felt right.
"Materials science is kind of the foundation for all the engineering disciplines," she said. "We get to create, design and engineer the materials that eventually end up in the hands of other engineers, so it allows me to touch and expand on all of them."
Finding a Path
She set her sights on UC Davis and though the path from community college to a UC seemed daunting, she connected with the UC Davis Avenue E program, which helps community college students in engineering transfer to UC Davis. The program provided the guidance she feels would've been difficult to find otherwise as a first-generation student.
"Avenue E outlined a clear and distinct path for me to get to UC Davis and kind of solidified my choice," she said.
She was accepted through the UC Davis transfer admission guarantee (TAG) program and enrolled in fall 2019. Though the transition was difficult, Avenue E and the MSE department supported her at every turn.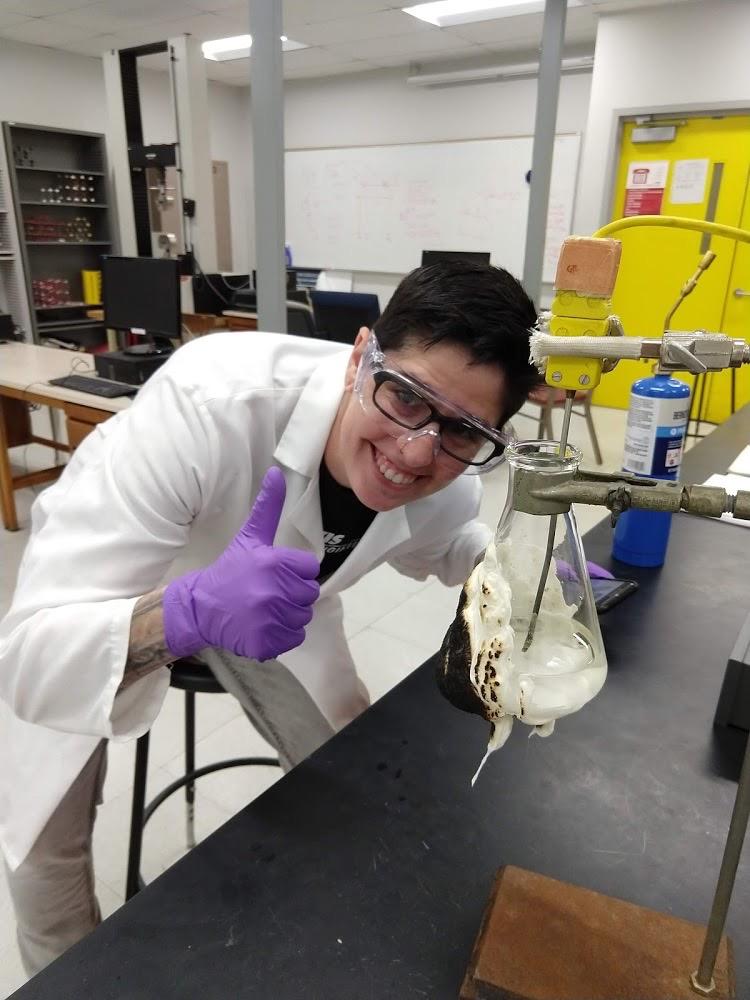 "I'm so grateful that I picked this major at this college in this department because everyone was so nice and gave me a great experience," she said. "[Professor Mason] especially was exactly what I needed right when I came to UC Davis—he was a good friend when I needed a friend."
Though her work experience gave Shuman communication and organization skills, her classes at UC Davis introduced her to how to be an engineer. She particularly remembers her "Materials and Engineering Design" (EMS 180) course with associate professor of teaching Susan Gentry because it was her first glimpse at how engineers select materials for different applications.
"That was the first time that I saw engineering design selection taking place and it really showed me how to think like an engineer," she said. "Every class I had was meaningful, though, and you could tell that every faculty member was so passionate about what they did."
Giving Back
Shuman is a founding member of the Materials Outreach Corporation, a student organization that raises awareness about materials science. Though the pandemic disrupted their plans, the club was still able to partner with a local middle school and high school class in its first year, as well as create posters for high school physics, biology and chemistry classrooms about materials science.
"We wanted to connect with local students and put a little bug in their ear to say, 'hey, this is a major you need to check out,'" she said.
After she graduates, Shuman plans to go to graduate school and eventually become community college professor, preferably at her alma mater, Folsom Lake College. She sees it as a way of giving back to the college that inspired her education while helping develop the next generation of engineers.
"I want to be the professor that I wish I had when I first attempted college, and I want to be as inspirational and knowledgeable as my materials science professors were so I can help create more leaders," she said.
Primary Category
Tags