Characterize Your Materials Using UC Davis' Cutting-Edge Laboratory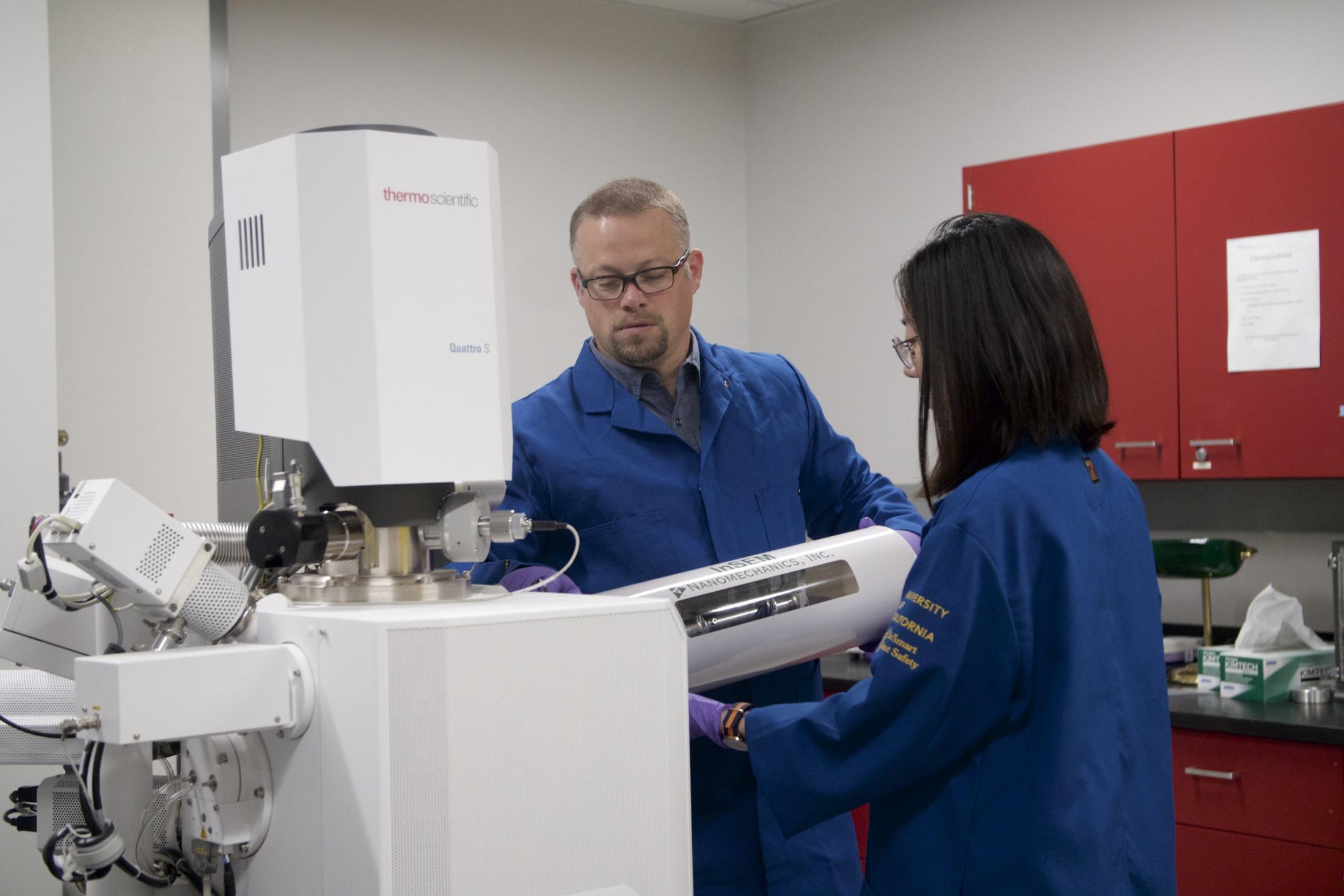 About AMCaT
The Advanced Materials Characterization and Testing laboratory (AMCaT) is a shared resource facility in Kemper Hall that is available to all interested users on and off campus. AMCaT supports a wide variety of electron microscopes, including aberration-corrected scanning transmission electron microscopes for the characterization of both hard and soft materials. These capabilities are complemented by state-of-the-art sample preparation equipment, high-resolution x-ray diffractometer, and a variety of different optical microscopes and image analysis software. AMCaT embraces and supports a multi-disciplinary user base of undergraduate, graduate, postdoctoral and faculty researchers at UC Davis and plays a key role in numerous research projects and lab classes in the College of Engineering.
AMCaT Services
AMCaT offers a wide variety of materials characterization tools, along with the professional experience needed to train and assist users or carry out laboratory services. 
Access to the AMCaT laboratory is based on hourly recharge fees that vary depending on the equipment or service. Our professional staff is also available for consultations and design assistance for projects being carried out in the laboratory. These services can be used by both UC Davis researchers and off-site customers.
Our website lists a full list of available equipment and their recharge rates for reference.
Cancellation Policy
Users are required to cancel their reservation at least 24 hours prior to their scheduled appointment. Cancelling within 24 hours of the appointment may result in users being charged up to the full cost of the previously scheduled time.
AMCaT Staff
AMCaT Equipment Manager & Technical Director
108 Kemper Hall
athron@ucdavis.edu
530-752-0284
Scientific Director
2007 Kemper Hall
benthem@ucdavis.edu
530-752-5117
Access to AMCaT Laboratories
AMCaT is a 24/7 multi-user recharge facility. All users must register prior to gaining access to the facility. To register complete the following steps:
Complete the 

New AMCaT User Form

, except for section 4, with your PI signature and seven-character DaFIS account number and return the completed form to the laboratory manager to schedule equipment and safety training.
Complete the

Machine Use Authorization Form

 (Form 3A) if you intend on using the x-ray diffactometer (XRD).
Request to create a Facilities Online Management (FOM) account.

Computer login information will be provided after registration.

Log in to FOM and select the equipment you wish to use from the equipment list on the right side of the user homepage.

NOTE: It must be confirmed that you have registered as a new user in FOM before you can complete this step.

Schedule a safety walkthrough with the AMCaT manager.

Schedule training with the instrument manager after the safety walkthrough is complete.
Contact the AMCaT manager if you have questions about the facility or the registration process.