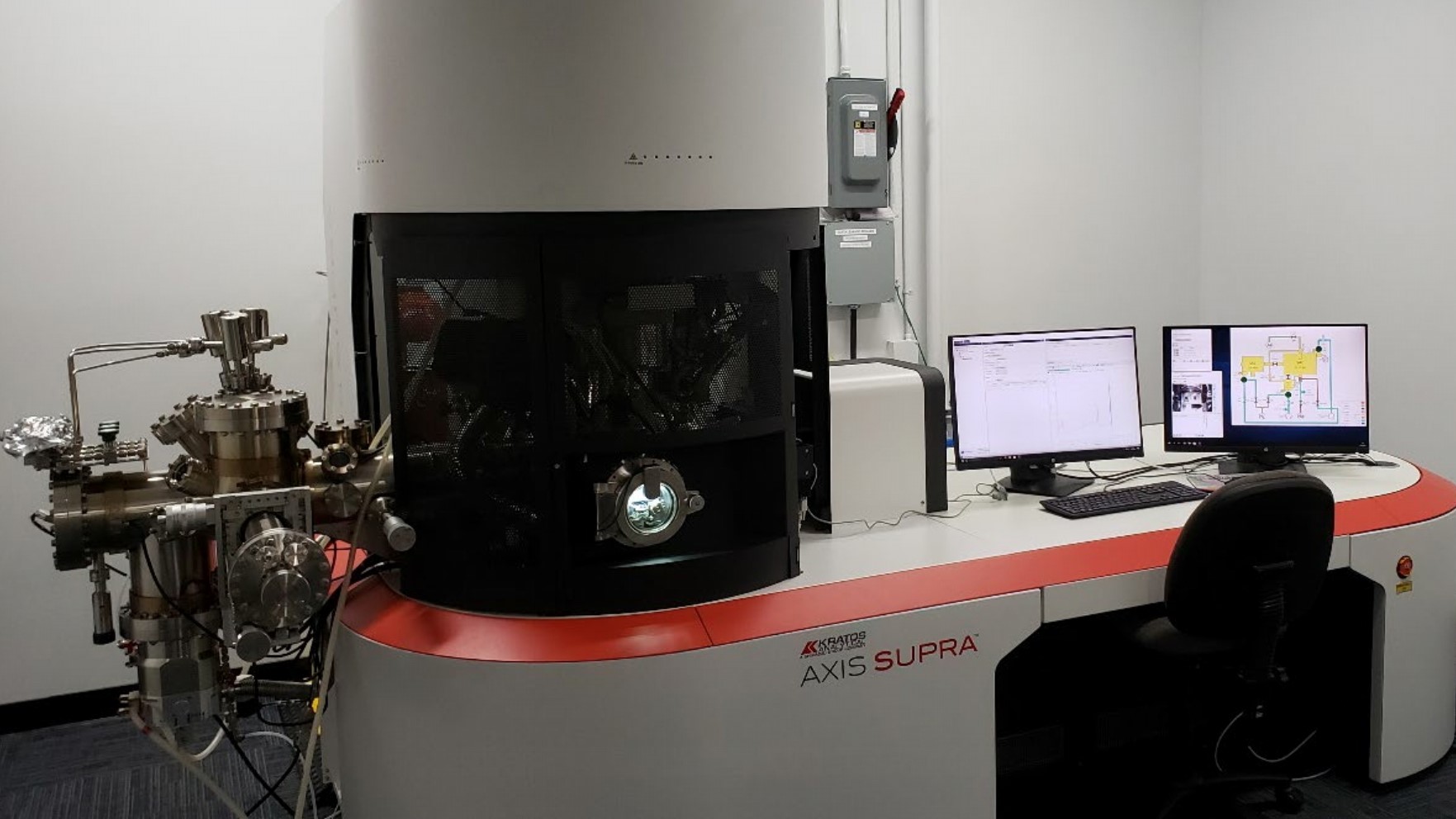 Description
The Axis Supra is a X-Ray Photoelectron Spectrometer (XPS) manufactured by Kratos Analytical. XPS is a surface sensitive technique, which allows the user to analyze the composition of their sample within the first 10nm of the surface. The Axis Supra is equipped with a Monchromated X-Ray Gun (Al and Ag anodes), an Achromatic X-Ray Gun (Al and Mg anodes), and Ultraviolet Photoelectron Spectroscopy (UPS) He lamp.
A Hemispherical and Spherical mirror analyzer equipped with a 128 channel Delay-Line Detector allows for fast parallel imaging and excellent signal-to-noise. The Axis Supra is also equipped with a Minibeam 4, Ar+ ion gun designed for surface cleaning and relative depth profiling.
An ultrahigh vacuum (UHV) Surface Science Station (SSS) is attached to the analysis chamber by a load lock. The SSS gives the user the in-situ capability of exposing samples to a variety of gas environments pre and post analysis without having to break vacuum. Furthermore, the heat and cool holder allow the user to perform in-situ experiments in the sample analysis chamber.
The Axis Supra is also equipped with a high tilt sample arm which can be used to acquire Angle-Resolved XPS (ARXPS).
Acquisition of the Axis Supra was funded by NSF-MRI 182838. The proposal was submitted by Professor Kristi Koski, and co-PIs Charles S Fadley, Coleman Kronawitter, Frank Osterloh and Jesus Velazquez.
Specifications
Monochromatic Source
Al anode Kα : 1486.6eV
Ag anode Lα : 2984.2eV
Achromatic Source
Al anode Kα: 1486.6eV
Mg anode Kα: 1254 eV
UPS Lamp
He (I): 21.22eV
He (II): 40.80eV
Capabilities
Heat and Cool Stage
SSS
Dose up to three gases simultaneously.
Imaging
Spatial resolution of 1µm.
Minibeam
Ar+ ions from 500eV to 4keV.
Location
108 Kemper Hall.
Recharge Rates Per Hour
Internal Unassisted: $41.25
Internal Assisted/Training: $98.00
External Unassisted: $55.00
External Assisted/Training: $103.75
Commercial Unassisted: $92.25
Commercial Assisted/Training: $168.00